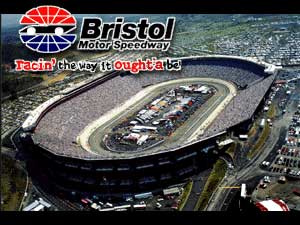 With such incredibly fast speeds on such a small track there will be action all day long at this speedway. It is very difficult to pass here, so patience is the key. If you are trying to pass you will need to wait till your opponent makes a mistake and slides up the hill a little bit. If you don't have the time it takes to wait for that to happen you can always give him a little nudge to help you get by.

At Bristol, a key to a good race is qualifications, since where you qualify determines if you pit on the front stretch or the dreaded backstretch pits.

Unlike most tracks on the Winston Cup Circuit, Bristol does not rely on aerodynamics of the vehicle to come away a winner, there is not realy drafting to speak of, and if a car finishes without some sort of body damage, it is really quite a miracle.

The cautions are usually numerous during any given race, so make sure your setup does not rely on long runs to gain strength.

Also keep in mind, if position between two cars going into the corner is a toss-up, let the inside car have it, otherwise you or both will end up sliding down the massive banking after slamming the wall.