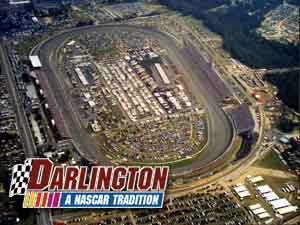 The era of NASCAR superspeedway racing began at Darlington Raceway on Sept. 4, 1950, with the inaugural running of the Pepsi Southern 500, which has grown into a legend in the NASCAR Winston Cup Series. The famous pond that determined the final layout of the egg-shaped track easily added to the uniqueness of the track and many believe it gives the track its character, that and the black marks around the track.

A Darlington stripe is the mark that you both receive from and leave on the wall when, not if, but when you scrape it during your race. The speedway appreciates these stripes and doesn't paint over them, therefore you can see all evidence of the little lapses of concentration from races gone past.

The unique egg-shape of Darlington Raceway make setup for this track more difficult. You should be able to go through 1 and 2 lifting only slightly and then on a high line near the wall through 3 and 4. You will need a very loose setup in order to throw the car around, the wall is always just ahead.