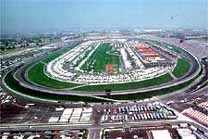 The California Speedway has grown into one of the premier auto racing venues in the country, hosting two major racing weekends, which are the largest attended sporting events in the state.

You will do here with your best Michigan Setup modified just a bit for the slight change in shape and banking, but it isn't very different overall.

Get a setup that will allow you to run the track with only a slight lift or tap on the breaks. Most setups have a tendancy to push towards the exit of the turns, especially turn 4.