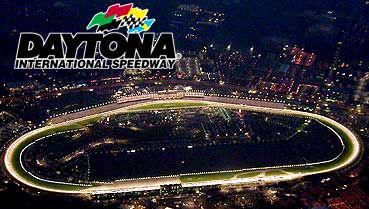 During the 2001 NASCAR Winston Cup Season, Daytona International Speedway was witness to one of NASCAR's darkest days in Feb. and one of NASCAR's brightest moments in July. Dale Earnhardt, the greates driver in the history of the sport, had his life taken on the final turn of the Daytona 500, and only 5 months later, Dale Earnhardt Jr. returned to the very same track for the Pepsi 400 and took the victory from the track that took his father's life.

ISC Recently installed lighting around the 2.5 mile high banked Superspeedway to allow the competitors to run the nearly unbearable July race under the coolness of the night. While this spelled relief for the drivers and fans alike, it meant more research needed to go into a more neutral, cool track setup that would withstand the drastic cooling track temps throughout the night. Thus with the installation of lights, a virtually new track showed its head.

Again a soft and stable setup is key here. You must keep the car low and out of the wind, but still draft your way to the front. Make sure you can save your tires until you really need them, at the end of the race most people won't be able to stick on the lower groove through the entire turn, and you can pull low the take the position while they dance with the wall.

Another key is a good pitstop. With speeds constant and near 200mph, a green flag stop will cause you to lose a lap, so hit your marks, and if playing with yellows on, try to wait until the very last possible moment to pit, just in case you catch a break.

Daytona is much more narrow than Talladega, NASCAR's other plate track. This means the turn 4 and turn 2 exit walls will sneak up on you before you know it. Try to use up all of the track, but be ready to drop low off of the exit of 2 or 4 quickly to pass the cars you get a good run on.