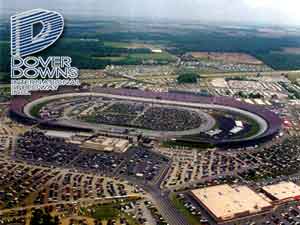 TRACK: Dover Downs International Speedway
LENGTH: 1.0

This is a real fun track to race at if you keep at the setup. Dover seems to be a place where you need to start out with a loose car and gradually, the car tightens up, and this may happen really quick. You will want to start out with a loose car, but not too loose.

The car will always seem to handle better in turns three and four, and no matter how you attack turns one and two, the car never seems to "grip" the concrete, and you slide all over the place. When you go into three and four, after a few laps, you can hold the car as fast as it'll go and just turn. The car will stick, and you'll fly around that turn, and generally blowing by the cars!

Sierra and Papyrus have begun giving you online setups. I suggest if you want to create your own setups, use these "Fixed" setups, as they are called. They are a very good base, and I use them for testing and racing, in which I can see a big difference in times between the "Fixed" setup and the "Race" setup that is supplied to you. Below, I had the car set up with the "Fixed" setup, which seemed to handle the best.

As you come up to the start finish line, you'll want to start thinking about letting up for the first turn. As you get halfway from the start line to the turn, let off of the throttle, and coast into the turn. The car has a tendency to dive down to the bottom of the track halfway through the turn, so you'll want to punch the gas and get out of the turn. Going down the back straight, begin to slow up for turn three at almost the exact time you get to the turn. Once the car gets into the groove you want, hit the gas and you'll be able to fly through the turn, often making up valuble time. Get the car straight again and head back to the start line for another lap.