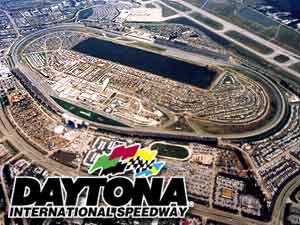 The Daytona International Speedway, is by far one of the three most famous tracks in the world, and home to the Super Bowl of NASCAR, the Daytona 500. Each year throughout early February, Daytona plays host to Speedweeks. Several full weeks of practically non stop Winston Cup, Arca, Busch, Winston West, and several other series races.

Drafting and the setup at Daytona is all you can do to win since it is one of the Winston Cup's 4 plate races throughout the year. Typically the 500 is fairly cool in early February so make sure you setup will stick quickly or you will find traction extremely difficult. You overall setup should be very stable to loose through the turns, and very soft overall. The closer to the ground the more your car will get out of the air and the faster you will go, especially in qualifications.

In order to win at Daytona, you must use the draft and avoid "the big one." Using the draft is key to any restrictor plate victory. When drafting past somebody be sure to execute the pass quickly and cleanly, do not race side by side or you will just lose ground on the leaders. If you are passing somebody at the head of a pack, it may be a good idea to bump draft a bit until you can rach the next pack's drafting tail, otherwise you may end up hung out and sliding backwars quickly.

Tire conservation is another key. If you save your tires and keep yourself in a good position throughout the race, you car will stick down low in the closing laps when you need it. At that time you can pick off the remaining 4 cars in the last 5 laps. Bringing home the victory at the Daytona 500 (even at 10%) is one of the most fun things I have ever done.