To order NASCAR Racing by Papyrus, the Track Pack, or NASCAR II, just click here.


To download the NASCAR 2 demo click here and follow the instructions below.


1. Make a directory called N2DEMO
2. Place NAS2DEMO.ZIP in the N2demo file
3.From DOS run PKUNZIP.EXE using the command line PKUNZIP -d NAS2DEMO.ZIP
4. Go to the NASCAR 2 directory and run Install. Follow instructions given from here

You must have be running an intel pentium processor and 16megs of RAM to run the demo

To get the new palette fix for NASCAR 2 cars got to the utilities page.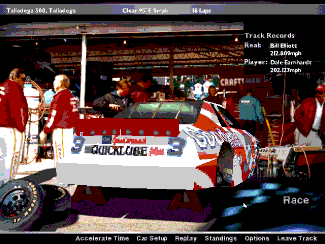 Now that NASCAR 2 is out we are able to race with most of the real drivers of NASCAR in the best racing simulation to date, but the drivers' sponsors are a different matter. As you know some sponsors are not featured in the game, and special edition cars are not either. I am currently working on several special edition, alcohol and tobacco sponsorship, and cars of drivers not included, and will post them as I finish them.

To add new cars,simply run the .exe file from windows.

All cars here are the best possible quality, and much time was put into each. If a car was given to me by a third party their name will be placed in the author's position with a link to their e-mail.
These cars are for private use only, please do not post them on any onther message boards or pages, thank you.